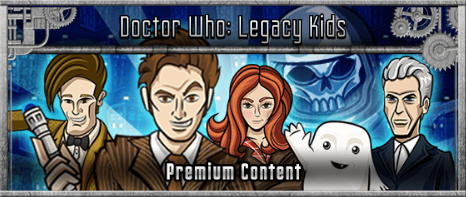 Doctor Who: Legacy Kids is a special set of levels found under Kids Area. The first six levels are free for all players. The remaining set of levels may be unlocked for US$4.99/ UK£3:99.
All levels have pre-set teams of allies. These teams cannot be edited and allies may have different colors, stats and abilities from the main area of the game.
The season is 25 levels long and grants access to 13 alternate outfits (three of which can be used for multiple allies)
Free Trial
The following levels are available as a free trial in Doctor Who: Legacy Kids. Drops in these levels are rare; they will become 100% drops once the Premium Content is purchased.
Premium Version
The following levels are available after buying premium Doctor Who: Legacy Kids content.
Outfits
The following alternate outfits can be unlocked in Doctor Who: Legacy Kids levels.
V

·

E

Doctor Who Legacy Seasons
Main Seasons
Chapter 1 Chapter 2 Chapter 3 Chapter 4
Special Seasons
Expert Levels Challenge Levels The Hunt For Greyhound One 2014 Advent Season 8 Expert Levels Season 2 Season 9 Bigger on the Inside prologue The Event
Premium Content
Fan Area Sonic Adventure Doctor Who: Legacy Kids The Husbands of River Song Bigger on the Inside Chapter 1
Discontinued Seasons
Advent Pack 2015 Special 2016 Xmas
Community content is available under
CC-BY-SA
unless otherwise noted.