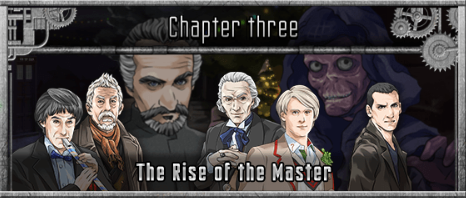 Chapter 3: The Rise of the Master (originally known as Season 5) is the third of the main seasons in Doctor Who: Legacy. The content features primarily creatures, companions, and plot lines from the fifth season of the revived television series. The season is 86 levels long and grants access to 35 allies and 11 alternate outfits.
Chapter 3 is the first Season in the main game to be released after the initial launch. It features lots of new content, such as new gem skins, the perk system, and characters with new powers.
Chapter 3 was released on April 17, 2014 after the perks went live earlier that morning. On August 12, 2014, 26 additonal levels were released, serving as the Chapter 3 epilogue. These levels are also accessible in a separate version with easier difficulty named The Hunt for Greyhound One.
Levels
The following levels are available in Chapter 3.
Allies
The following allies can be unlocked in Chapter 3 levels.
Outfits
The following alternate outfits can be unlocked during Chapter 3 levels.
Referenced Episodes
The following television episodes are directly referenced in Chapter 3 levels.
V

·

E

Doctor Who Legacy Seasons
Main Seasons
Chapter 1 Chapter 2 Chapter 3 Chapter 4
Special Seasons
Expert Levels Challenge Levels The Hunt For Greyhound One 2014 Advent Season 8 Expert Levels Season 2 Season 9 Bigger on the Inside prologue The Event
Premium Content
Fan Area Sonic Adventure Doctor Who: Legacy Kids The Husbands of River Song Bigger on the Inside Chapter 1
Discontinued Seasons
Advent Pack 2015 Special 2016 Xmas