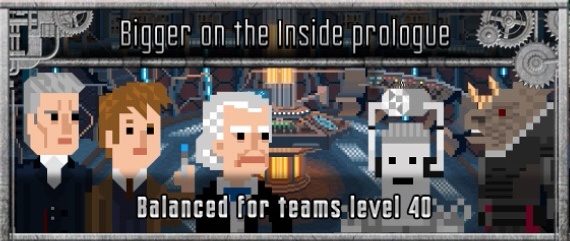 Bigger on the Inside is a special set of levels. It was previewed in the 2014 Advent level Seven Zygons Pixelated, and the prologue launched on March 26th 2015, in commemoration of the 10th anniversary of the Revived Series of Doctor Who. In this collaboration between Doctor Who: Legacy and PixelWho, a virus invades the TARDIS, throwing all incarnations of the Doctor and his companions into danger. The expansive story will see individual arcs for the 10th, 1st, 4th, 9th and War Doctors (2015 Community Letter #1).
The prologue is 18 levels long and is available for free. The full Bigger on the Inside storyline will be released regularly in chunks throughout the year, requiring time crystals to unlock future installments.
Levels
Outfits
The following alternate outfits can be unlocked during Bigger on the Inside prologue levels.
V

·

E

Doctor Who Legacy Seasons
Main Seasons
Chapter 1 Chapter 2 Chapter 3 Chapter 4
Special Seasons
Expert Levels Challenge Levels The Hunt For Greyhound One 2014 Advent Season 8 Expert Levels Season 2 Season 9 Bigger on the Inside prologue The Event
Premium Content
Fan Area Sonic Adventure Doctor Who: Legacy Kids The Husbands of River Song Bigger on the Inside Chapter 1
Discontinued Seasons
Advent Pack 2015 Special 2016 Xmas
Community content is available under
CC-BY-SA
unless otherwise noted.