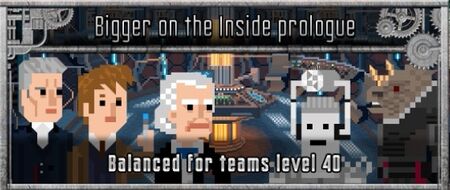 Bigger on the Inside prologue is a set of levels available under the "Special" tab. It was introduced on March 26th, 2015 to commemorate the 10th anniversary of the Revived Series of Doctor Who.
The prologue is 18 levels long and grants access to 12 pixelated outfits. The story continues in Chapter 1, available under the "Premium" tab at a cost of US$4.99.
The following alternate outfits can be unlocked during Bigger on the Inside prologue levels.