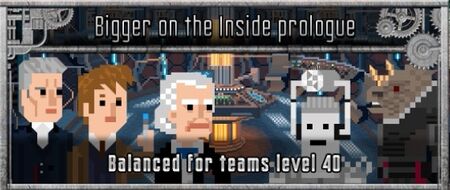 Bigger on the Inside prologue is a special set of levels in Doctor Who: Legacy, introduced on March 26th 2015 to commemorate the 10th anniversary of the Revived Series of Doctor Who.
The prologue is 18 levels long and is available for free. Chapter 1 (of 2), authored by George Mann and focusing on the Eighth Doctor and War Doctor, will be released on August 2, 2016 at a cost of US$4.99.
Levels
Outfits
The following alternate outfits can be unlocked during Bigger on the Inside prologue levels.