For the levels released in December 2014, see 2014 Advent.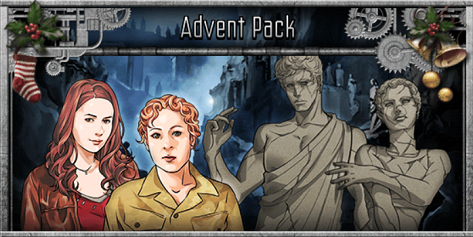 The Advent Pack was a set of levels released in December 2013 as part of the Advent Calendar promotion. These levels have been discontinued, but most of them have been incorporated into Chapter 3 in revised form. Levels marked "Expert" were more difficult than their regular counterparts, but they did not drop Expert allies.
The following levels were available in the Advent Pack.
The following ally could be unlocked in Advent Pack levels.
Referenced Episodes
Edit
The following five television episodes were directly referenced in Advent Pack levels.
V

·

E

Doctor Who Legacy Seasons
Main Seasons
Chapter 1 Chapter 2 Chapter 3 Chapter 4
Special Seasons
Expert Levels Challenge Levels The Hunt For Greyhound One 2014 Advent Season 8 Expert Levels Season 2 Season 9 Bigger on the Inside prologue The Event
Premium Content
Fan Area Sonic Adventure Doctor Who: Legacy Kids The Husbands of River Song Bigger on the Inside Chapter 1
Discontinued Seasons
Advent Pack 2015 Special 2016 Xmas
Community content is available under
CC-BY-SA
unless otherwise noted.