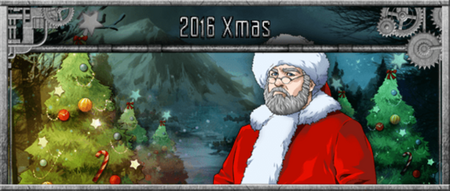 2016 Xmas was a special set of levels released in December 2016 as part of the Christmas Giveaway 2016. It was discontinued on January 9, 2017, with levels 1-3 moved to the Fan Area.
The season was 4 levels long and granted access to 1 ally and 3 alternate outfits.
The following levels were available in 2016 Xmas.
The following ally could be unlocked in 2016 Xmas levels.
The following outfits could be unlocked in 2016 Xmas levels.
V

·

E

Doctor Who Legacy Seasons
Main Seasons
Chapter 1 Chapter 2 Chapter 3 Chapter 4
Special Seasons
Expert Levels Challenge Levels The Hunt For Greyhound One 2014 Advent Season 8 Expert Levels Season 2 Season 9 Bigger on the Inside prologue The Event
Premium Content
Fan Area Sonic Adventure Doctor Who: Legacy Kids The Husbands of River Song Bigger on the Inside Chapter 1
Discontinued Seasons
Advent Pack 2015 Special 2016 Xmas
Community content is available under
CC-BY-SA
unless otherwise noted.